It has been a very busy few months. And over the next few days I will be posting whats been happening. I will start with the arrival of Baby Eli. How amazing it has been to be part of this. This is nature at its best. Fertility without medication.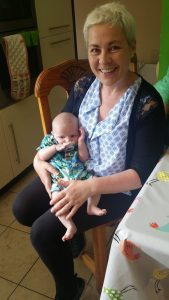 Eli was born to Lisa and Garry after 3 sessions of Bowen. I feel very Blessed to have played my part in this.
My first of many Bowen Babies I hope. I met Eli for the first time when he was 8 weeks old and gave him his first Bowen treatment. He is such a health and content baby.
Testimonial from Lisa
Lisa McMahon Please meet Eli Cooper McMahon, my beautiful Bowen Baby. After three sessions not only did my vertigo go (and still gone) and have more energy etc as I said above but I became pregnant!!! This was actually the reason I started Bowen therapy with Rose. Three sessions and some fantastic advice and guidance from the wonder Rose and I have the my baby, I had to go through 7 years of fertility treatment for my first son and had three very relaxing and lovely and easy treatments off Rose… wow. Thank you Rose xxx love Lisa, Gary, Nicholas and Eli xxxxxx