Paolo and Saffron arrived on Sunday evening, 2 Beautiful people. And on Monday we had an amazing rebirthing / breathwork session facilitated by Paolo. It was such a beautiful day that we had the class out in the back garden.
how cool is that! Everything went our way – It was amplified by the incredible sound from Saffrons' crystal bowls.
The energy was electric. Thanks to all who were present for making it so.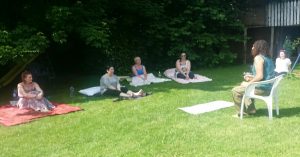 I wish both Paolo and Saffron all the very best on their Journey together – We will hopefully see them back for Bealtane.